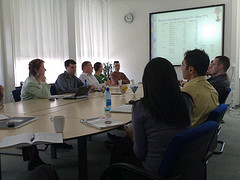 Service
At GT Tech we can provide custom service level agreements based on your individual company needs.
Our general principal of operation is to help your business acheive as much self reliance on simple IT issues as it can. We then step in and meet those needs which budgets or current personal in your business prohibits you to attack internally. If you have an internal IT person already, or have someone in mind at your location that you would like to be that IT first contact, we will work them to enhance their current skill set. Likewise, if you already have IT staff performing normal business IT duties, we can provide specific expertise to help you design and implement those projects that create efficiencies, cut expeneses, and help get your business to the next level.
Small Business Package
Small, 1 to 15 employee businesses, have unique needs that can usually include network design and maintenance, server administration, a certain level of desktop support, and development of a web presence. We find that many businesses of this size may already have a software package they purchased for their particular vertical market, or a point of sale system that is in use at their location already. GT Tech is usually brought in on an hourly basis. After analyzing your business needs a monthly business timetable is established. Backup, maintenance and miscellaneous tasks are agreed upon. You can rely on GT Tech will monitor how well your systems are performing and will suggest and address any changes that are required. GT Tech is also available for telephone or on site support, assistance with your business system software upgrades.
Mid Size Business Package
Besides performing similar services as we do for Small Businesses, we find that medium businesses have needs of augmenting their base business systems with new services (EDI, Web commerce, Customer Resourse Management). GT Tech can integrate these important capabilities with your existing business system. If you're just starting out, or expanding your business, GT Tech is the perfect partner to work with in developing internal expertise for all IT needs of your business. If your an established business we can augment your current IT staff to help complete those projects which you deem priorities for the continued success in the new economic times.
Large Size Business Package
These businesses usually have a well established IT hiearchy in place. GT Tech primarily functions as a project management agent for these busnessess, coordinating with internal staff and external vendors, to complete those missions critical projects that insure the future success of any business.